I thought we would check in a bit before you asked and let you know how great Fisher is and how happy we are to have gotten one of your pups. He has been well behaved in the crate from day one and has been a breeze to house break. Even though he is not very old yet we have been able to teach him to sit, stay, lay down, come, shake, and many other things. I swear you had already taught him to sit before he came with us because he sits and waits for me to give him food and water without a problem. He even waits for me to tell him to "get it" before eating. He has already been in the water a bunch of times and loves to go for hikes. I have been working on using an emergency whistle to call him back when he is off the leash and he responds to it perfectly. We love having him in the home with us and we do our best to keep up with him. He likes to bite at anything that comes near him so I stuff a sock in his mouth and that seems to work the best. Fisher has been a great addition to our family.
Thank you again,
Marty Simpson
Binghamton, NY
msimpson607@gmail.com
*****************************************************************************
Hi Sue/Mark,
It's been a year now that Sophie has been with us (Jack & Scout's litter 2013). I wanted to send you one last picture and update to let you know how she is doing. She has turned out to be such a GREAT dog and is loved by everybody that meets her. She has a lot of spunk and is quite the little prankster. She makes us laugh everyday. She is also very good at catching birds. She is averaging one a week in our backyard and I have no idea how she is doing it but she has started dropping them at our feet now. She watches out the windows all day long looking for birds and squirrels and then she sits outside and just waits patiently for the right opportunity. I told my husband after she caught the first one that now that she knew she could do it she wasn't going to stop… and it looks like I was right! She had her first encounter with a turtle the other week when we took her down the shore and that was quite funny! Anyhow… I just wanted to say thanks again… she's a great dog and we get compliments all the time about her and how well behaved she is for being as young as she is. Cheyenne (our other dog) loves her too and the two of them are the best of friends.
Take care!
Chrissy Czarnecki
Bensalem, PA
czpepper@comcast.net
*****************************************************************************
Hey Sue and Mark,
I just wanted to give you an update on Benelli. She is doing great, got her 12 weeks shots earlier this week. She is growing fast and happy as can be! She loves doing bumper training for bird work, but fits right in on the couch. She has a real sweet mood, and is smart as a whip. She has been hiking to lots of parks and runs circles around the kids. We update her photos on facebook @ benellimccurley@facebook.com, if you want any photos I Can email them to you. Thanks again, and I will keep you updated periodically.
Scott McCurley
Chambersburg, PA
immccurley@gmail.com
*****************************************************************************
I know it has been a little while since we had last spoke, but I finally had some free time and decided I'd better send you guys an update on Bailey. Here is a pic that I told you I'd get of 3 generations of Rock Steady Pups. The oldest on the right is Benny (my dad's dog), next oldest on the far left is Jet (my dad's dog) and the little guy in the middle is Bailey. They all get along together great and Bailey loves to visit with his cousins. I hope you enjoy the picture.
Zac Cianciosi
Theresa, NY
*****************************************************************************
Hello guys.
I have attached a word document full of scout's pictures and our update. I have also attached a video from our trip to the beach a week ago. I hope this finds you both well. Thank you again for everything, Scout has been an absolute pleasure. You guys have a wonderful operation there! If you are unable to upload the document please let me know. There are quite a few pictures in it so the file size was too large to attach directly to the email. I have sent it via my yahoo dropbox.
Kindest regards,
Kelly Cleaver
Walkersville, MD
*****************************************************************************
Hi guys!
I wanted to give you an update on Bolt. He is a fantastic dog! Good job in raising him. He is polite, gentle, and well behaved. Tucker is the boss here and Bolt doesn't give Tucker any trouble! After Bolt got here Tucker became housebroken! No more pee in the house from Tucker! Bolt only went once in the house but now they compete on who can have the last pee in the same spot outside as the other!
Bolt was a bit curious about the cats…now he can be right with them and they will rub up against him. Tucker accepts the cats now also. We bought peeps and Bolt didn't try to kill them…only sniff them! Oddly enough Tucker loves to sniff and root at them…I still don't trust he or Bolt won't try to eat them!
We took Bolt to the vet and set up an appointment to have him neutered and the vet said he was the nicest lab he has seen in a long time. The vet wanted to know where we got him (of course we told him). When Bolt was placed on the exam table he released his anal glands…stunk so bad but the vet was impressed. He said that defense action of releasing the glands was bred out of the labs and only the true breeders of the dogs kept that 'feature' of the dog. Also the vet explained how Bolt's coat was different from the genetically changed dogs.
Bolt is in love with the creek behind our house. He jumped right in and started swimming and retrieving sticks. Ole Tucker tried to help but the current was strong and Tucker isn't as strong as he used to be. Every morning when we let Bolt out he bolts down to the creek to get a drink and a swim in. I don't know what he will do when the creek starts to dry up in the summer! Well I guess to the river we will go! I will take some pictures and send them to you guys! I have to find my battery charger first!
Bolt is getting used to going in the car. He still won't jump in but he does think about it so I am sure he will be jumping in soon! Tucker loves to go places so he bullies his way to get in the car. Tucker went to work everyday with me and now I think he is thinking we are going but we just go to take Emily to school.
I hope Smiley is adjusting to not having his brother with him. 🙁
Well I hope all is well there and I will keep in touch!
Michaelene Shirey
Montgomery, PA
michaelene72@hotmail.com
*****************************************************************************
Hi Sue and Mark
Bailey is truly having an amazing first year as a hunting companion. A few guys at the club think he's the best dog there and he just turned one year old! He is retrieving to my hand and always finds downed birds quickly. I am planning on retiring after next school year and I have been giving much thought to getting another Brittany. Don't be surprised if I give you a call next spring. Thanks so much for a great friend and hunting companion.
Jeff shutter
Ephrata, PA
coachshutter@yahoo.com
*****************************************************************************
Hi Sue and Mark
I just wanted to send you a birthday photo of our Sophie who turns 1 today. Thank you for having such wonderful breeding lines to give us our special little girl. She certainly has filled our hearts with a lot of love.
Thanks
Tom and Heidi Detenbeck
Stevensville, ON Canada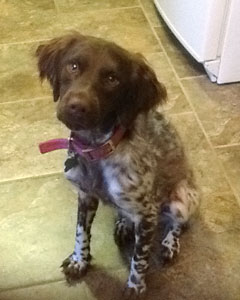 *****************************************************************************
Hello Mark and Sue,
We are so excited to report to you Birdie's progress at 9 weeks old and 1 week at home with us in Fairfield, CT.
– Slept through the night by second night and sleeps through the night consistently since.
– Trained for 'bathroom outside' with "Outside" command by day 3, will now go to the door and sit by the door until we let her out.
– Trained with "Sit " command
– Will Sit for her food bowl
– We are working on "Birdie Fetch" Command with a ball and we are having great results!
Birdie has been loving and affectionate with our family. We are overjoyed with her beauty! This is all a testament to her superior breeding and breeder!
We will write again soon. Thank you for your support!
Best Regards,
Marybeth and Michael Auszura
Fairfield, CT
auszura@optonline.net
*****************************************************************************
Hi Sue and Mark,
Just wanted to let you know Cooper is doing great in his new home. I can't believe what a fast learner he is! He's pretty much mastered "come" already and is doing pretty good with house breaking and kennel training. He's getting to be a pro at "no" too, haha!! The first 2 nights were rough in the kennel but he's calmed down a lot over night. Cooper's temperament couldn't be better, he is great with our 2 small kids and loves chasing our Golden Retriever around the house! You guys should be really proud of the puppies you sell, Cooper is a true testament of the great line of Brittany's you have at Rock Steady! We have registered him with the AKC, as you asked, with Rock Steady as the first 2 words in his name, "Rock Steady Catch 'Em Cooper"!! He fits in to our family very well, thank you so much! I've attached some pictures for you!
Brandon Caprio
Akron, NY
squanny77@yahoo.com